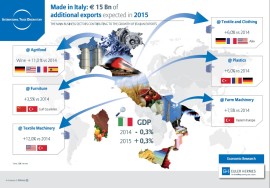 Italian Export in the USA 
Italy is known for it's fine wine, pasta, ceramic products, oils, pharmaceuticals, machinery, and vehicles. In fact, Italian products are widely sought after, making Italy the 10th largest export economy in the world according to the Economic Complexity Index. According to an OEC article Italy exports products totaling $499 billion. Some of Italy's top exports include packaged medicaments ($22.1 billion) and cars ($10.6 billion). However, the trend and media campaigns to promote authentic Italian food sparks anticipation for Italy's export value to increase by 10% / 12%.
The most popular food exports from Italy to the United States include wine, olive oil, cheese and pasta. In 2014, wine was the main segment of Italian food products to be exported to the US. Olive oil came in second, bringing in around $526 million in sales. Cheese is the third most exported food product that brought in $307 million. Following close behind, pasta exports amounted to $284 million.
With wine being the number one food-related product imported to the US from Italy, a Huffington Post article by Leslie Gevirtz found that Americans are drinking more wine than Italians.Barolo, Brunello, Barbaresco, Prosecco, Maschio Cadora, and Ceretto Santo Stefano are the most popular imports of classic wines that are driving sales. The most popular olive oil being sold to the US is Bertolli while some of the more popular types of cheese include Parmigiano Reggiano, Mozzarella, Ricotta, Gorgonzola, and Mascarpone. Pasta brands like De Cecco, La Molisana, and Barilla (Italy's largest pasta company, driving 35% of market).
The United States ranks third on Italy's top export destination list, bringing in around $38.1 billion to the total value of Italian exports.
The US imports much more than just Italy's fine cuisine. The  Top 10 imports from Italy include machines (20.4 percent of total exports), vehicles (7.3 percent), electronic equipment (5.7 percent), pharmaceuticals (4.7 percent), plastics (4.1 percent), iron or steel products (3.9 percent), oil (3.7 percent), furniture (2.7 percent), clothing (2.6 percent), and iron/steel (2.6 percent).
Automobiles and machinery dictate Italian trade. The country embodies a plethora of mountainous terrain where agriculture is not possible, which is why Italy focuses on its manufacturing strengths instead. Italy is known for famous brands such as Armani, Valentino, Versace, Benetton, Prada, FIAT, Lancia, Alfa Romeo, Maserati, and Lamborghini. Recently, the FIAT has struggled in sales since the release of the FIAT 500, selling around 75,000 cars in the US since it's release in 2013 according to a Detroit Free Press article by Brent Snavely. The FIAT is hoping to increase sales with the release of a new car, the 124 Spider, at the Los Angeles Auto Show in November.
Pharmaceuticals also make up large portion of Italy's exported products with highly sought after companies like Alfa Wasserman, Bouty, Chiesi Farmaceitci, Dompe, Menarini, Recordati, and Sigma Tau providing vaccines, antibiotics, vitamins, acids, and alcohols to the United States.
One of the main reasons Italian products are so valuable and in such high demand is because the products are required by law to be all-organic with no GMOs added. The United States does not have this requirement for its products which is why the US is one of Italy's biggest buyers and continues to purchase Italian made goods.
By Jamie Perez/CIJMedia